GLENN'S SHOWNOTES
Vodafone cuts prepaid mobile broadband to $99, doubles data to 1GB
Vodafone cuts prepaid mobile broadband to $99, doubles data to 1GB
This includes 1GB of data, with recharge options starting at $19 for 500MB and attracting an additional 10% 'bonus data'  allocation for recharge packs purchased online. Customers can also roll over up to 5GB of unused data.
Microsoft, HTC and Telstra to launch Windows Mobile 6.5 tomorrow
Microsoft, HTC and Telstra to launch Windows Mobile 6.5
the devices themselves will be marketed simply as 'Windows phones'.

Microsoft will launch Windows Mobile 6.5 at a media event in Sydney's Hilton Hotel on Wednesday morning. Sharing the stage will be HTC and Telstra.
Facebook habit gobbles up net time | Australian IT
Facebook habit gobbles up net time
AUSTRALIA'S Facebook habit soaks up about a quarter of all the time we spend on the internet, according to Nielsen Online.

Analytics director Mark Higginson said Australians spent about 6 1/2 of an average 26 1/2 hours online each week visiting Facebook.

"On average, one quarter of all internet use in Australia is on Facebook," Mr Higginson said.

Facebook was the fourth most-visited site by Australians last month, behind Google, Ninemsn and Microsoft.
Apple bites back at Woolies over logo | Australian IT
Apple bites back at Woolies over logo
APPLE is taking on Australian supermarket giant Woolworths, claiming the retailer's new logo too closely resembles its iconic apple symbol.

The logo application was filed with federal government agency IP Australia in August, and is shaped like a stylised green "W".

The Age reports Apple is concerned the logo will directly compete with its brand as Woolworths looks to expand its business into consumer electronics.
Walkers told to turn off iPods | Australian IT
Walkers told to turn off iPods
Police believe mobile phones, MP3 players, personal organisers and other hand-held devices are becoming a killer distraction for pedestrians, with statistics showing a sharp rise in the number of pedestrians killed each year.

Pedestrian deaths jumped from 41 in 2007 to 59 last year.

Already this year 37 people have lost their lives crossing the road in Victoria.
Mac clone maker offers OEM program – Technology – News – iTnews.com.au
Mac clone maker offers OEM program
Mac clone firm Psystar has announced the launch of an original equipment manufacturer (OEM) licensing program that will let hardware manufacturers produce machines that are Mac OS X compatible.

Equipment purchasers will then be able to install either a Windows or Apple operating system onto their machine.

"The customer can install the Mac OS themselves simply by inserting the retail DVD, or choose to install several other operating systems with no manual boot configuration,

Apple has argued that the licensing agreement for OS X does not allow for third-party installations.
Mass account theft hits Hotmail users – Security – Technology – News – iTnews.com.au
Mass account theft hits Hotmail users
Mass account theft hits Hotmail users – Security – Technology – News – iTnews.com.au
The company said that over the weekend reports emerged of a mass password theft. After investigating the reports, Microsoft said that it had traced the thefts back to a phishing page which gathered user data and that no internal systems had Microsoft had been compromised.
Users are also encouraged to change their password recovery questions and update their alternate email addresses.
WAYNE'S SHOWNOTES
Aussie Windows 7 Pricing Announced | Gizmodo Australia
WINDOWS 7 PRICING
Ultrathin Sony X Series coming next month along with a touchscreen laptop
X SERIES NEXT MONTH
iGoogle
Adobe Flash Finally On It's Way to iPhone?
ADOBE FLASH FOR IPHONE
IGN Xbox 360: Games, Cheats, News, Reviews, and Previews
XBOX GAME RELEASES OCT
XBOX GAME REVIEW
IGN PC: Games, Cheats, News, Reviews, and Previews
PC GAME RELEASES OCT
AVATAR THE GAME PRE ORDER NOW VDO AND SCREENS ON UBISOFT WEBSITE  HERE
IGN PS3: Games, Cheats, News, Reviews, and Previews
PS3 GAME RELEASE OCT
iGoogle
Rumored PS3 Firmware 3.0 Details Emerge
PS3 UPDATE DETAILS EMERGE
Amazon.com: Call of Duty: Modern Warfare 2: Video Games
IGN PSP: Games, Cheats, News, Reviews, and Previews
PSP GAME RELEASES OCT
IGN Wii: Games, Cheats, News, Reviews, and Previews
WII GAME RELEASES
Format Proposal – Google Docs
Hello this is the proposal
Engadget

It's all paperwork at this point, but you had to know that the Wi-Fi Alliance wouldn't just let the two-year old 802.11n draft 2.0 program remain as it was now that the protocol is finally finished, right? Announced today, said organization is updating the Wi-Fi Certified program to add testing for "popular optional features now more widely available in WiFi equipment," all of which are detailed in the read link. The real news, however, is the new face. On the same day that we were shown an absolutely spectacular new Windows 7 logo — one that will inevitably mar your next laptop's palm rest — the Wi-Fi Alliance (or the WFA, as we call 'em at the poker table) is rolling out an updated logo, family of taglines and product labeling matrix. Thrilling, isn't it? Head on past the break for a few more… if you're into that kind of thing.
REG'S SHOWNOTES
Undersea cable ushers in hope for new era of bigger data allowances for Internet users
After years of waiting, the PIPE PPC-1 fibre-optic link stretching from Sydney via Guam, is going live. In a big win for consumers of some ISPs, a new era of cheaper plans and bigger data allowances may await
Well before the NBN manages to make its presence felt around Australia, another more immediate change to our broadband is taking place this week. Making its official launch on thursday, the Pipe Pacific Cable or PIPE PPC-1 as it's better known, is promising to reduce the costs of transmitting international data traffic, as the tiny and remote Pacific island of Guam is connected to Sydney via Papua New Guinea.
Internode will be among the first ISPs in Australia to utilise the new undersea cable speeds, a move that removes ISP reliance on the traditional and largely more expensive Southern Cross and Australia-Japan cables: major data routes which, up until now, have dominated international data prices in and out of Australia for much of the last decade.
The Pacific Pipe dream
Ever since the Pacific Pipe dream was first announced early last year, there's been plenty of talk of 100MB/s speed plans being delivered to the home. And while the speeds might not be the first thing to change this week, increased data quotas are going to sooth pain of that dollar pinch.
Internode spokesperson John Harris told PC Authority that the move is "mostly about value for customers" and not solely a cost cutting exercise, even though the PPC-1 has the potential to greatly reduce the price paid per megabit for wholesale data.
As part of the cable launch on October 8th, Internode are having a spring clean-up of their broadband plans; the reinvention of Internode plans involves the introduction of 40 new plans, while 50 old plans across their entire range will also be made redundant.  Customers using Internode's Easy Broadband plan for example, will get an automatic quota upgrade from 30 GB to 50 GB per, without paying anything extra.  And you can thank the PPC-1 for that.
Apple prefer environment to profits
Get annoyed at US Chamber of Commerce.
Fruit themed gadget maker Apple has apparently walked out of the US Chamber of Commerce because of its medieval global warming policy.
According to Reuters, Apple is miffed at the Chamber of Commerce over its environmental policy.
This apparently involves paying scientists to oppose the notion of man-made global warming, which Apple seems to think is real.
Apple said, "We would prefer that the chamber take a more progressive stance on this critical issue and play a constructive role in addressing the climate crisis."
Catherine Novelli, a vice president of government affairs at Apple resigned its membership in the business group "effective immediately".
Apple joined three big power utilities, Exelon Corp, PG&E Corp and PNM Resources Inc, which said they were leaving the chamber over the group's stance on climate change.
There is a feeling that while the chamber's members are okay with tackling global warming, the group is still trapped in its 1960's view that the environment is less important than profits.
DRAM error rates higher than thought
Even ECC is affected.
Solid state memory, such as the DRAM modules running in the very computer you're likely reading this on, is typically thought of as pretty flawless.
While errors are commonplace for processors (making them many times per second), memory is never thought of first when files are corrupted – but a study by a Google employee seems to suggest otherwise.
Taking a survey of the thousands of servers under their control, Google tracked thousands of DRAM modules across every type from DDR1 to DDR2 in densities ranging from the smallest to the largest.
Surprisingly they found that it didn't matter what type of memory was being used at the time; while 8% of modules have errors, this averages out to a whopping 3,751 errors per stick every year.
The study seems to narrow the problem down to the motherboards that the DRAM is running in rather than the sticks themselves, but if a server experiences an error it is incredibly likely to experience another one in that same year.
It's definitely something to think about for those running mission-critical applications that run in memory exclusively, considering that standard DIMMs we run don't have even basic error checking.
The much-criticised Vista operating system losing market share even before Windows 7 arrives.
Microsoft's much-maligned Vista operating system has started to lose market share to its replacement, Windows 7.
Windows 7 has not yet been officially released, but is already making an impact, according to web metrics firm Net Applications, which said that Vista lost 0.2 per cent share during September to end the month with 18.6 per cent of the operating system market.
Windows 7 gained 0.3 per cent, according to Net Applications, representing its biggest monthly gain since Microsoft began making it available to developers and other specialist groups at the beginning of the year.
Even if Microsoft has not yet received any cash for Windows 7, it apparently powered 1.5 per cent of computers that connected to the subset of the internet monitored by Net Applications last month.
Microsoft will release the full version of Windows 7 on 22 October.
digital camera manufacturers start to concentrate on quality rather than megapixels – reducing the count of the latter while enhancing the former – mobile phone makers still appear caught in the vortex of more-means-better. A case in point is the Samsung GT-M8910 Pixon 12, the first handset with a 12Mp camera – should we be impressed?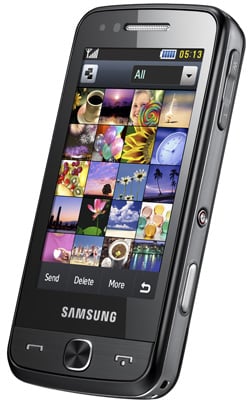 Photo call: Samsung's GT-M8910 Pixon 12
Well, actually, it isn't just about the megapixels for Samsung either. Yes 12Mp breaks new ground, but the feature set here is actually quite rounded in terms of what a mobile phone can offer, and you might be tempted even without taking the numbers game into account.
For example, the Pixon 12 has a Xenon flash. Hardly groundbreaking in itself but it does mean you get a better chance of producing good shots indoors in low light conditions. Furthermore, it has a separate light for video shooting.
The lens is covered, and when you press a right side mounted button it shoots off and the camera software launches. Both processes happen quickly enough for you to stand a chance of a quick point and shoot. A separate button handles focus and shooting, and it has a very positive action.
A Smart Auto mode adjusts camera settings according to conditions, giving you the best chance of getting a good shot. It worked quite well during testing. The bowl of fruit, for example, is a brighter, more vibrant image when shot using Smart Auto than it is on settings we chose as best for this scene.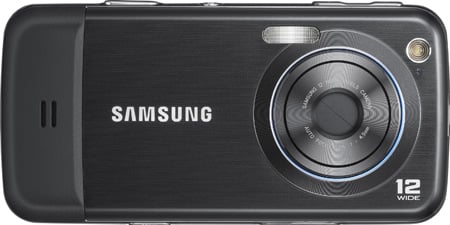 Like most compact cameras, the lens is protected when not in use
The camera boosts a lens equivalent to 28mm on a 35mm camera. It's a decent wide-angle choice and means you can get more in a shot. In use, we certainly noticed how much more was in the frame than we'd normally expect from a phone.
The Obama administration wants to convey clear and concise guidance about one of the biggest national security threats in homes and offices – the computer.
The administration wants Americans to think before they click. Know who's on the other side of that instant message. What someone says or does in cyberspace stays in cyberspace – for many to see, steal and use against people and their government.
The internet, said former national intelligence director Michael McConnell, "is the soft underbelly" of the US today. Speaking recently at a new cybersecurity exhibit at the International Spy Museum in Washington, McConnell said the internet has "introduced a level of vulnerability that is unprecedented
Microsoft is set to lift the covers off Windows Mobile 6.5 this Wednesday, with local launch partners Telstra and HTC joining in for the occasion.
It's a big month for OS launches, at least if you're Microsoft. The worldwide kick-off for Windows 7 is barely two weeks away – but tomorrow belongs to its smartphone cousin, Windows Mobile 6.5.
Windows Mobile 6.5 may be over fresh but it's been a long time in the baking, and Microsoft has plenty riding on it.
The most substantial previous release, Windows Mobile 6.0, shipped in February 2007, and a lot's happened in the interim. Well, actually, only one thing happened – the iPhone – but pretty much everything else in the mobilescape shifted and changed as a result.
Key features to Windows Mobile 6.5 include a streamlined UI built around more touch-friendly 'touch to swipe' sliding screens plus a new Today home screen and Start menu.
Apple challenges Woolies logo
Apple has protested the use of Woolworths' new apple-shaped trademark, which looks similar to the well-known brand image loved by Mac fans worldwide.
The logos in question
(Credit: Woolworths and Apple)
Woolworths lodged the new trademark last year in August: the letter w, formed in the shape of a peeled apple with a leaf on top. Although IP Australia — the Australian intellectual property administrator — made public in December that it had accepted Woolworths' application for the trademark (for the supermarket to be able to keep it), it next needed to withstand any opposition it might encounter.
Unfortunately for Woolworths, Apple didn't like the similarity of the revamped brand to its own carefully guarded stamp and filed opposition to the registration, which also covered product categories such as computers, in March.
As yet, however, Apple has failed to provide supporting evidence for its claim. It had been called upon to provide its reasons for opposition in June, according to an IP Australia database, but received an extension until September. It seems that the company has also recently asked for another extension. IP Australia's database did not make it clear as to whether that extension has been granted. An IP Australia spokesperson was unable to provide clarification on this issue at the time of publication.
Pirate Bay back online and back on Google
Pirate Bay is back on Google, and back online, following a double whammy of downtime and a wrongly served DMCA notice.
Last week thepiratebay.org was removed from Google's search results. The page revealed that Google was responding to a Digital Millennium Copyright Act takedown notice – a legal warning from the owners of copyrighted material.
Google has now explained that this was a mistake – thepiratebay.org address was wrongly included in a takedown notice from a firm which specialises in protecting porn copyrights. Takedown notices are used to warn a company that it is hosting copyrighted material and that it must be removed or legal action will follow.
Google apologised for the glitch.
The file sharing site also suffered a three hour break in service on Friday. ®
Mozilla unveils cure for Web 2.0 world run amok
The Mozilla Foundation has unveiled an early version of its Firefox browser that it says could virtually eliminate one of the most common attack forms now menacing the web.
It implements an inchoate technology the foundation calls CSP, short for the Content Security Policy specification. It allows web developers to embed a series of HTML headers into their sites that by default block some of the most abused features from being offered. Newer versions of Firefox, and other browsers if they adopt the standard, would then enforce those policies across the site's entire domain.
The primary aim of CSP is to immunize websites from attacks based on XSS, or cross-site scripting. The exploits frequently target javascript, Adobe Flash and other user-supplied content that allows attackers to inject malicious content and code into trusted websites. Administrators then have the option of whitelisting only the types of content they need to make their sites work as designed.
Unlicensed users won't get free Windows security crutches
Microsoft has confirmed that its free security software will be available only to users running legitimate copies of Windows.
Security Essentials is a free anti-virus product that Microsoft is hoping will be used by people who have not previously installed security software on their PCs.
However, Alex Kochis, director of Microsoft's Genuine Windows team, said in a blog post that Security Essentials will work only with legitimate copies of Windows.
Computer users running pirated copies of Windows will not be able to run the software, but will instead be offered the chance to buy a legitimate copy of Windows.
Microsoft has a mixed relationship with the large number of people who pirate its operating system. The company blocks many of its applications from working with illegal copies of Windows, and has launched several atempts to sue pirates.
However, Microsoft does allow security updates to be sent to pirated copies of Windows and Internet Explorer. The company has said that it does not want unprotected PCs to host viruses and make the work of computer criminals easier.
Bogusware, scareware or rogueware – whatever you prefer to call them, are all different names given to describe roughly the same thing: rogue security products that masquerade as the real thing.
According to numbers published by the Anti-Phishing Working Group (APWG), more than 485,000 rogue security samples were detected for 2009 – an astoundingly large figure, when you consider that is more than double the statistical total for 2008.
More so, June was a watershed month for malware: 152,197 examples of anti-malware products were analysed overall.  
The APWG estimates more than 200 gangs throughout the world are responsible for the bulk of rogue security software applications floating around the internet, although only 10 of these gangs are responsible for more than 77% of the rogue malware infections.
How they work
Generally, web surfers are prompted to download rogue security software via an advertisement that pretends to offer authentic anti-virus or spyware scanning tools. 
Other methods also include drive-by-downloads via infected websites and fake BitTorrent downloads carried over popular P2P networks.
In some cases, the extent of infection only extends to credit card fraud: users are asked to register for a lifetime product licence by entering their credit card details.
But in other more sinister cases, fake malware products can install hidden Trojans onto the user's computer unsuspectingly and then log email actions, bank account passwords and other personal data by sending it covertly back to the gang operating the scam.  This data is often used in numerous identity and banking fraud schemes.
Where will you most likely come across rogue security software?
At first, it was assumed that most of the software applications were only showing up on porn, P2P and warez sites. Now that's changing. In recent months, mainsteam websites such The New York Times came under attack for hosting an advertisement on its site that redirected readers to a fake anti-virus package. 
Google plays a key part in the dissemination of not-so-honest links. Fake anti-virus applications still routinely show up in the pretext of Google adwords and in search results when you ssearching out new anti-virus suites to download.  
Downloading antivirus products over Bittorrent or P2P can be just as dangerous – many so called genuine products (such as Norton 2009 for example) can contain Trojan horses that work in the same way to infect machines.
A quick Wikipedia search will often tell you plenty of things about your program of choice.  It comes down to a great deal of common sense, including downloading from trusted sites, reading reviews and taking some time to consider why a flashing ad is prompting you to install a mysterious antivirus scanner. If it's too good to be true, it probably is.
Removing and  cleaning rogue invaders
Not all mainstream software security packages will pick up and detect the latest scareware. This has much to do with the concept of polymorphic malware, a type of viral threat that constantly changes its own binary structure to evade detection, making it extremely difficult to be picked up by traditional signature based scanning.
As most rogue security titles are polymorphic by nature, their malware signatures are often dynamic, which makes it very hard for some antivirus software to detect.
To keep one step ahead of the security companies, malware programmers regularly change their name and logo to keep up with the latest signature scanners. As a result, many of the same rogue software titles compete under different titles, names that sound much like the real thing including "MS Antivirus".
Smaller spyware scanners tend to do a good job specialising in removing the fakes and these include programs such as Malwarebytes Anti Malware and Spyware Doctor. Combo-fix is a bare-bones piece of freeware used for catching spyware and malware and is a effective free alternative to cleaning vulnerable machines. HijackThis can sometimes be used to delete registery information if spyware scanners cannot clean all aspects of an infection.
5 rogue security software titles to avoid:
1) SpySherrif
How it works: This piece of malware does it best work by informing computers of false threats to their system. It's mostly found via web typo's (Toggle) and via infected software downloaded over P2P networks.
Threat value: SpySherrif is extremely difficult to remove by traditional security scanners. In additional to credit card fraud, this piece of crafty spyware can block internet connections, create multiple administration accounts, stop critical programs from responding and block access to several useful websites that might be used to clean any malware infection.  
Also known as: System Security, SpywareStrike, SpyShredder and Spybot – just to name a few.
2) WinFixer

How it works: Frequently launches pop-ups that offer trial versions of anti-virus suites that can scan machines for non-existent infections. To remove the fake Trojan, users must purchase the program.
Threat value:  Used mainly to extort users through credit card fraud.
Also Known as: WinFixer goes by many names, titles that sound much like genuine security suites. These include WinAntiSpyware, AVSystemCare, WinAntiSpy and Windows Police Pro. There are among 20 other given names for WinFixer.
3) MacSweeper

How it works: Known as one of the first rogue security applications to target the Mac Operating systems. It's easy to catch too: web typos, drive-by downloads and piggyback downloads hidden in other applications.
Threat value: This one has been busted by the big security firms already and there are instructions for removal available online. The usual credit card fraud aspect applies and encourages users to pay for a full trial version.
Also known as: KiVVi Software, Cleanator.
How it works: Green Antivirus is unique because it places a spin on the traditional fake anti-virus suite, by adding a moral incentive to users. The fake program often promotes to donate $2 of each downloaded software title to a particular charity in need. This is done to make the software appear more legitimate.
Threat value: Credit card fraud warning.
Also know as: Green AV.
How it works: With a name bearing the false credentials of the biggest software company in the world, this particular rogue security suite is particularly well positioned to take advantage of number one branding. Works in same manner of other rogue security suites by offering to scan computer for free.
Threat value: It's Microsoft OS dependent, so you'll need to be on a Windows machine to be a viable target. However, once downloaded, the malware can disable genuine virus scanners and make it difficult to remove.
Also known as: Extremely popular and ever changing its name, it's also known as Windows Antivirus, Win Antivirus, Antivirus Pro and Antivirus Pro 2009 – among many many others.
Are you ready for the GPU war?
It is starting to look like things are going to heat up on the GPU front as Nvidia and AMD go head-to-head in the next month or so.
Nvidia is expected to unveil the GeForce GT210, GT220 and GT240 in the fourth quarter. The cards will perform at 9400-9500GT levels and use DirectX 10.1.
The GT210 will come with 24-Cores, a 64-Bit Memory Bus, 512MB of DDR2 or DDR3 RAM clocked at 800MHz, and GPU and Shader units clocked at 600MHz and 1425MHz, respectively.
The GT220 has 48 processing cores to make it a bit faster, a 128-Bit Memory Bus, 1GB of RAM running at 1600MHz, and GPU and Shader clocks of 625MHz and 1375MHz, respectively.
Both of these will arrive just before the GT300 series in December.
AMD has lined up its troops to start appearing in October. These include the ATI Radeon HD 5770 and HD 5750. Both will come with 1GB GDDR5 memories and 128-bit memory interfaces.
The HD 5750 will have all the features of its higher end counterpart like 40nm, DX11, Eyefinity technology, ATI Stream, UVD2, and GDDR5 memory. It will be relatively cheap as chips as GPUs go.
The ATI Radeon HD 5870 X2 and Radeon HD 5850 X2 should be in the shops in November. These feature 25 per cent more shader processors compared to the RV770 GPUs. It looks like a seriously good chip which is much smaller than previous efforts.
But it looks like the sales pitches between the two sides will centre around DirectX11.
AMD seems to think that the world plus dog is ready for it while Nvidia is still lagging. The fact that Nvidia's GT210, GT220 and GT240 are an 'upgrade' to DirectX10.1 shows that the Green Goblin is either taking a conservative approach or can't produce DirectX11 capable parts yet.
Nvidia's GeForce G210 is for the budget conscious while the GT220 will be for the mainstream and the GT240 for gamers.